Let us talk about Narrative Writing...
I have found a new website that I have come to LOVE! It is called The Curriculum Corner! It has awesome lessons, units, ideas, organizers, check-lists...and so on. AND best of all: they are FREE!
That is where I found the basis for my own Narrative Writing Unit. We have been focusing on writing our own personal narrative picture books. We are still in the drafting phase, but have been reading and inspecting elements each day.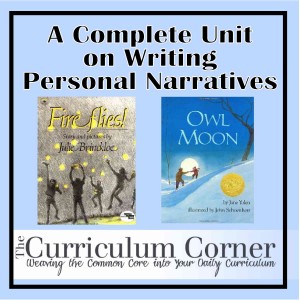 Go
HERE
to see the Whole Unit! (Note this is recommended as a 2nd grade aligned unit, but the read alouds are wonderful! I find it fitting for my kiddos as well!)
It has also been very convenient to tie all of this into my reading block as well. We have been covering story structure, main idea, close reading strategy (on-going in my room), character analysis, and will be moving into theme next week.
We have been tracking the Story Structure on an anchor chart like this (mine isn't as pretty so go to her site and take a look at
Mrs. Jump's
version-pictured below):
WE have been seriously practicing using Text Based Evidence and have been graphing our use of such evidence. I bought this from TPT, because I was sooo in love with it! Check out this
TBE graph
and what it does. I honestly think my 5th graders are really into it and have become much better at using TBE to support their thinking. This what the graph looks like...
(***NOTE***THIS IS NOT MY PRODUCT! GO TO
HELLO LITERACY
LINKED ABOVE AND CHECK OUT HER AMAZING POST ON HOW TO USE THIS GRAPH.)
I seriously encourage you to RUN over to her blog and check out this product from Hello Literacy!!
Ok...I am going to stop there for now! I can't imagine life without Pinterest and TPT!! Maybe I will get around to adding more of my own products soon.